Create an account with Signup Genius
Then click on the links below to sign up for volunteer jobs, we currently have jobs available until the end of December. Reminder - every family must complete 5 volunteer hours per school year.
Thanks so much for your help, we couldn't do it without you!
Fall Jobs - Pub night, Fall Gardening and Seasonal Decorating

Christmas Show - Generals and Dress Rehearsal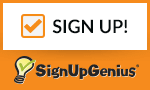 Christmas Show - pre-show and during the show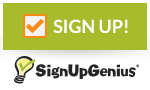 Note: Feb Show volunteer jobs will be posted November 1st